Sugar, our blonde female that started it all

 

Check out Sugar's photo album for more pictures
"Ace"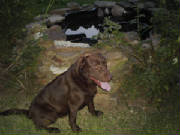 Ace is our newest member of the family. A wonderful dog and very easy to work with.

Sugar's Blackberry Suprise aka "Sasha" is one of Sugar's puppies from her last litter that we have decided to keep and show in conformation shows. We are hoping for Sasha's first litter in a year or so depending on how the showing goes. Check back with us often to follow Sasha's progress.
pedigree coming soon